50 Qty of 1894 Indian Head Cents (#JK01-058) All Cull and Better Conditions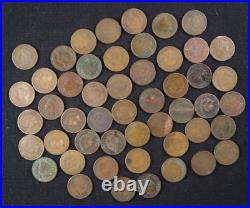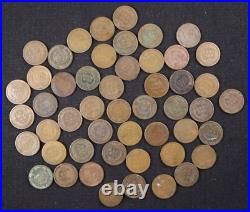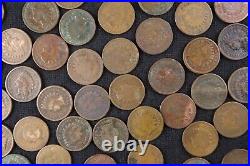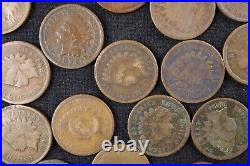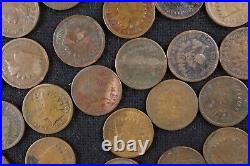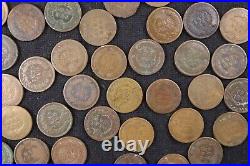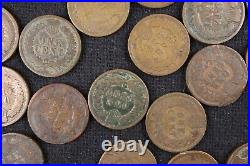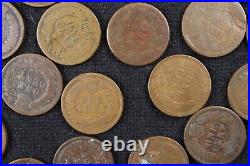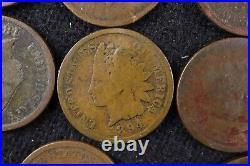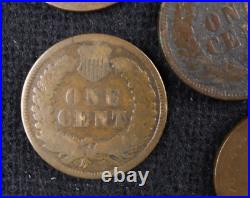 E proudly offer the following coins for sale. These are all cull or better cents. All have severe issues including, but not limited to, environmental damage, corrosion, cleaning, dents, scratches, pocking, discoloration, dark appearances or holes. The coins seen in the photos are the exact ones that you will receive. As rough as some of these are, it's a great opportunity to acquire these Indian Head Cents at a fraction of the cost that they would cost even in Good condition.

The coins are in raw, uncertified condition and are guaranteed 100% authentic. Please view the high-resolution photos and make your own determination of these coins' grades.

For our personal collection, we've graded all these coins cull or better. Grading is subjective and the grade you assign may be different. Other fun stuff about this listing and our company.

We are not assigning a specific grade to any coin since grading and a coin's appearance is subjective and can interpreted differently by different people. We leave this art up to you and make your own determination of its grade based on our high-resolution photos.

The grade we note above is our own interpretation for our personal collection. Please review the photos as they are taken of the coin you will be purchasing. We have spent countless hours perfecting the best photos of the coins we sell. Our photos are very detailed.

Many times, the imperfections that are present on the surface of some coins in our photos are hard to even see when the coin is in front of you... Much like looking at a coin through a loupe or magnifying glass.

Better in person than in photos. Thank you for your interest and we appreciate your business! We take customer service very seriously and will work hard to ensure you have an exceptional shopping experience. We are here to help! We will work hard to answer all of your questions.

We want you to come back and we want you to tell everyone else about what a great experience you had with us. Although we strive to be perfect, no one is. If you ever have a problem, we want to take care of it! Unless you tell us about your problem, we cannot fix it.

We would greatly appreciate the same in return. We will get your paid orders out right away, but please remember that we have no control after we drop it off at the post office.

We stand behind all of our items 100%. Their authenticity is guaranteed indefinitely. They will be carefully packaged to ensure your item(s) arrive quickly and safely. A picture is worth a thousand words. Our pictures are better than any words we could use to describe our coins.

Although we can always give you our opinion, grading is a subjective "art". We don't always include a grade on the coins we offer, but, if we do, it is our opinion only and it would be the grade we would assign for our own personal collection. Multiple numismatics will, more than likely, give you different grades for the same coin! We try to photograph coins as accurately as possible to give you all the information you need to form an opinion. Spent countless hours working to perfect the photos for our listings.

Our goal is to photograph our coins in a way that allows you to see what the item will look like when it is in front of you. We do not enhance or touch up any of our photos. All the best to you! Great Finds Coins ANA Member #3217093.