All 5 2020 W Quarters 25¢ (set) V75 Samoa Weir Farm Salt River Marsh Tallgrass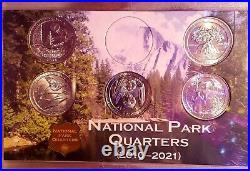 This is a set of 5 America the Beautiful 2020 W Quarters. The coins are uncirculated and ungraded, and feature different designs: V75 Samoa, Weir Farm, Salt River Bay, Marsh-Billings Rockefeller, and Tallgrass Prairie. The coins are composed of clad and were struck in business quality in West Point. Please note that this set is uncertified.
Don't miss this chance to add these beautiful coins to your collection!