All the Facts A History of Information in the United States Since 1870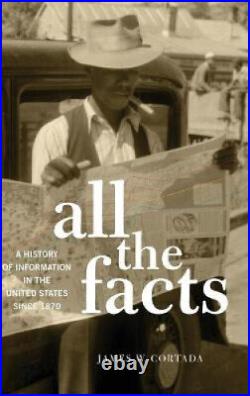 All the Facts presents a history of the role of information in the United States since 1870, when the nation began a nearly 150-year period of economic prosperity and technological and scientific transformations. James Cortada argues that citizens and their institutions used information extensively as tools to augment their work and private lives and that they used facts to help shape how the nation evolved during these fourteen decades. He argues that information's role has long been a critical component of the work, play, culture, and values of this nation, and no more so than during the twentieth century when its function in society expanded dramatically. While elements of this story have been examined by thousands of scholars--such as the role of radio, newspapers, books, computers, and the Internet, about such institutions as education, big business, expanded roles of governments from town administration to the state house, from agriculture to the services and information industries--All the Facts looks at all of these elements holistically, providing a deeper insight into the way the United States evolved over time. An introduction and 11 chapters describe what this information ecosystem looked like, how it evolved, and how it was used.

For another vast layer of information about this subject the reader is directed to the detailed bibliographic essay in the back of this book. It includes a narrative history, case studies in the form of sidebars, and stories illustrating key points. Readers will find, for example, the story of how the US postal system helped create today's information society, along with everything from books and newspapers to TV, computers, and the Internet. The build-up to what many today call the Information Age took a long time to achieve and continues to build momentum. The implications for the world, and not just for the United States, are as profound as any mega-trend one could identify in the history of humankind. All the Facts presents this development thoroughly in an easy-to-digest format that any lover of history, technology, or the history of information and business will enjoy.