Emerald Harvest Premium 2-Part Cali Pro Garden Plant Nutrient Starter Box Kit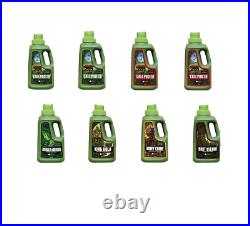 EMERALD HARVEST NUTRIENT STARTER KIT. 950ml Premium Two Part Plant Nutrients. This ultimate 2-part hydroponics starter kit features the easy-to-use Cali Pro Professional Base Nutrient Series. Emerald Harvest has won the "Best Nutrient Company" award 5 straight times. Hydroponic growers bump up their results with this kit. It pairs our premium 2-part professional base nutrients with a powerful bloom booster, a premium plant tonic, plus supplements to increase resins and build massive roots.

Ideal for any new gardening project. The 2-Part Kick Starter Kit includes. 1x Cali Pro Grow A 950ml.

1x Cali Pro Grow B 950ml. 1x Cali Pro Bloom A 950ml. 1x Cali Pro Bloom B 950ml.