Erase Cosmetic 3 min Instant Facelift, Face Lift serum, Anti-Aging, Anti-Ageing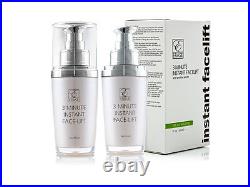 3 MINUTE INSTANT FACELIFT SERUM. You can enjoy a younger, beautiful radiant skin, without the cost, pain and hassle of injections and surgeries!

All this pictures are from our satisfied customers, We added watermark to these pictures so people cant use them for other brands. The Facelift in a Bottle.

It's a lot more than a wrinkle cream. Erase Cosmetics has developed an outstanding topical anti-aging cream that mimics the results of surgical facelift, without having to undergo the invasive procedures, the pain and the expenses that accompany it. 3 Minute Instant Facelift is designed to rapidly and temporary reverse the signs of aging. An extraordinarily unique anti-aging cream which provides an instant and noticeably visible tightening effect, lifting the skin and consequently erasing wrinkles off your face. Dramatic and Noticeable Immediate Results. Erase 10 years off your face in 3 minutes. 3 Minute Instant Face Lift Serum provides dramatic results as it powerfully lifts and firms skin to give you a smoother complexion. Look 10 -15 years younger in 90 seconds. Lifts and Firms up sagging skin.

Immediately reduces deep lines and wrinkles. Smooth out forehead wrinkles and crow's feet.

A Cocktail of Nature's Powerful Ingredients. Because your skin deserves the best. Our formulation of natural ingredients is meticulously developed in the laboratory to ensure that essential molecules can efficiently penetrate and take action in the dermal layer of the skin. Utilizing advanced technology, Erase Cosmetics has designed an innovation which infuses Collagen - a powerful protein essential in maintaining skin integrity. In nature, Collagen is found exclusively in animals. Collagen is a vital, predominant protein which makes up approximately 30% of the proteins in the connective tissues of our body. In the skin, it is responsible for its firmness and suppleness, as well as the constant regeneration of skin cells. THE NATURAL WONDER OF CUCUMBER.

Studies reveal that cucumber fruit has one of the highest densities of nutrient of any plant in the world. It hosts a complex of powerful anti-oxidants and loaded with revitalizing amino acids, vitamins and minerals. Cucumber fruit extract (Cucumis Sativus) acts as an emollient and a conditioning agent.

It lubricates the skin to restore its moisture. More importantly, it is rich in Vitamin C a potent anti-oxidant which is known to stimulate Collagen production in the skin. A form of Vitamin A, Retinol works by increasing collagen production to repair skin damage. It also stimulates new blood vessels, giving the skin a rosy appearance and fading age spots. Continue to look better everyday.

3 Minutes Instant Face Lift Serum provides instantaneous results that can last for 8 to 12 hours, clinical studies also reveal that long term regular application of this effective wrinkle remover assists the skin to regain its "pre-wrinkle" state, permanently. With our newly improved formula to give you that immediate facelifting action plus significant long term anti-aging benefits for your skin. You can conveniently re-apply the face serum as necessary and you can completely control the results you get.

Unlike invasive procedures such as Botox® and surgical facelifts, Erase 3 Minute Instant Face Lift Serum is totally risk free. It is a proven c0ost-effective strategy to achieve facelift without surgery. How 3 Minute Instant Facelift works. First let's understand the anatomy of skin aging.

As you age, the production of collagen and elastin (the proteins responsible for skin hydration and elasticity) declines. This results to decreased skin elasticity. As the skin cells move further apart, visible signs of aging manifest such as: sagging and wrinkling of the skin.

Over time, repeated facial movements such as smiling, frowning, furrowing your brow and merely talking, take their toll. With the skin's decreased elasticity, it is unable to snap back the way it used to when you were much younger. With the years flying, creases gradually form and become deeper as you get older. Infusing Collagen in our formulation of natural ingredients, 3 Minute Instant Facelift Serum provides your skin what it direly needs. 3 Minute Instant Facelift Serum is a topical anti-aging cream. As it dries, the face serum is absorbed into the upper layer of the skin. With the power of Collagen, the serum effectively contracts the spaces between facial skin cells, drawing them slightly close together and thereby firming up the skin, smoothing deep wrinkles and reversing the signs of aging. The result is a tightening and lifting effect; redesigning your face and making you look like you did when you were much younger. It takes just 90 seconds to begin seeing the results and the maximum effect is reached in around 3 minutes.

The product's estimated efficacy duration is about 8-12 hours. Aqua/Water/ Eau, Sodium Silicate, Propylene Glycol, Magnesium Aluminum Silicate, Sodium Carboxymythyl Cellulose, Vegetable Collagen, Palmitoyl Tripeptide-1, Palmitoyl Tripeptide-7, Carbome Polysorbate 20, Retinol, Cucumis Sativus (Cucumber) Fruit Extract, Phenoxyethanol, Ethylhexylyglycerin. Appearance: Amber highly viscous liquid pH: 4.50 - 5.50 Relative Density: (20°C): 1.050 - 1.150 Dry Residue: (1 05°C) : 19.0 - 23.0% (mlm) Preservatives: 2 - Phenoxyethanol 0.90 - 1.0% Sodium Benzoate 0.25 - 0.40% Potassium Sorbate 0.10 - 0.20% Microbial Count. 3 Minute Instant Facelift Serum is free of specified pathogens.

The amount of non-pathogenic micro-organisms in the serum is less than 100 CFU per ml of the serum and meets the CTFA microbiology guidelines. The product fulfills the criteria of the repetitive germ loading test described by Shyam B. Singh-Verma Parfumerie und Kosmetic 68(7), 414-421, 1987. Standard and well-defined safety testing has been performed with Instant Facelift which has proved the product to be safe for cosmetic use. The data available does not indicate any environmental risk. The manufacturing process is designed to meet the criteria for the assessment of safety, health and protection of people and of the environment. 3 Minute Instant Facelift Serum should be stored out of direct sunlight at room temperature. If stored under the recommended conditions the face serum remains stable for 24 months. 3 Minute Instant Face-lift works most effectively on clean and dry skin.

Make sure your skin is free of all makeup, sunscreen and oil. Allow skin to dry before applying 1.

Shake the bottle/sachet well before opening. A film of instant face-lift should be applied to the areas you want the fine lines and wrinkles to disappear. Rub onto the skin evenly but not until dry.

For best results apply with a foundation brush using an upward motion. In 2 minutes you will start to see dramatic results Apply only mineral-based skin care after use. The effect may last 8-10 hours. This item is in the category "Health & Beauty\Skin Care\Moisturisers". The seller is "1worldwidesale1" and is located in this country: GB. This item can be shipped worldwide.
Classic / Toned: x2 Classic
Size: 30ML
Country/Region of Manufacture: United States
Type: instant facelift
Gender: Unisex
Brand: Erase Cosmetics
Skin Type: All Skin Types