Functional DSKY with Apollo Guidance Computer, runs all NASA/MIT Code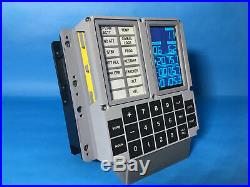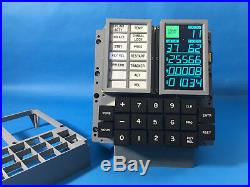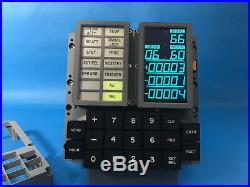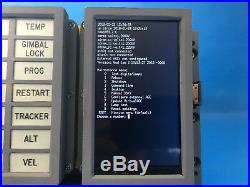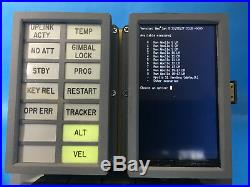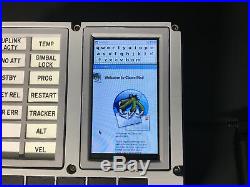 Now available, a full sized DSKY functional model with integrated Apollo Guidance Computer. (Supports a remote ACG too) Pictured with the rear section and cover installed (the black section), those are included. What you will receive: This is a 1:1 DSKY (DiSplay KeYboard) 3d printed model matched to the Raytheon/M.

/NASA external dimensions and many internal dimensions. The blueprints are not available so this design was created by measuring museum DSKY's, historical photos, research, and photo interpolation. It includes the face plate, mounting base, display sub support, error lamp module, digital display module, gaskets, display covers, Allen screws, paint, battery, charger, cables, LCD display, Lamp display PCB, 19 keys, graphics, overlays, all LEDs with a built in Apollo Guidance Computer with all CORE memory files from all versions hidden behind the high brightness TFT LCD. The DSKY keys are back lit with 1 watt super bright LEDs.

Each error lamp is made of 3 of the 1 Watt LEDs and are visible in direct sunlight. All LEDs are multiplexed to reduce current draw so the included 20,000mah Lithium Ion battery can run this for 24 hours at a time. It is portable, cordless, and the back lit keys make it operable in complete darkness. The original unobtainable short life span digital electroluminescent display, is simulated with a Long-Life 4.3 inch TFT LCD with a touch screen. The touchscreen has an included stylus but this is not used in the DSKY software.

The graphics you see in the main frame are the actual display. It is crisp and beautiful with the NASA character set. The fonts used are as per NASA specifications. Your graphics will be a perfect and will look near identical to the EL display except it wont wear out or fade and does not cost a fortune and require a burn in period.

If you want to improve, or "age" the display, you may replace the graphic set with your own and specification of alternate graphics is easily done. All graphic elements including COMP ACTY on and off are actually graphics you can edit and load as an additional graphic set. You can select the different graphic set by a command and retain the original set. You could change the display to look like LCD, grey with EL, LED, or whatever you want to create. You will not damage the original graphics as this DSKY connects over the Internet and updates itself when commanded. The CPU in this DSKY/AGC is about a hundred times more capable than an Arduino and is comparable to the CPU in your Laptop, not your coffee maker (Arduino Nano). The entire DSKY and the Guidance computer with all 14 core files from all unique Apollo variations is included.

This DSKY does ALL of the commands a DSKY and AGC does whether the AGC was in the Command Module or the Lunar Excursion Module (They were quite different). AGC software is loaded into the on board dual core 64 bit CPU to enable you to operate the DSKY in all documented hardware configurations from Apollo 1 to Skylab. This lets you run simulations with block 1 and block 2 AGC software from all Apollo and Skylab missions. Maybe even the Apollo Soyuz Test Mission. This loads the hardware setup for the operation of the DSKY/AGC depending on which configuration you select.

If you do not select a configuration, The default Apollo 11 Lunar module is selected and the firmware runs as it did in the Lunar Module that landed on the moon. This AGC integrated into the DSKY is able to be redirected to another AGC on the Internet, or a simulator that has the rest of the spacecraft simulated. Included is a WIFI interface and wired Ethernet network. This DSKY/AGC runs Launch and Landing scripts so you may select for example a Saturn V launch or Apollo 11 lunar landing, and the display animates for about 10 minutes to provide an interesting demo of what it was like in the spacecraft.

You may edit or create your own scripts if you need to and have the skills. These script files will repeat forever and make an excellent presentation in your museum, kiosk or gift shop. The software is finished, and based on open source.

The AGC code is as per NASA/MIT but the interface to the NASA code is written in Python and runs on a Linux platform. This DSKY/AGC is run on a single board computer that has been integrated behind the LCD. This computer runs Linux and there are 4 USB ports (one is reserved for the internal DSKY keyboard), Bluetooth, WiFi, a network interface, stereo audio, and general purpose inputs and outputs. Included is 1 Gigabyte of memory built on to the CPU and a 32 Gigabyte micro-sd card that is used as a solid state hard drive.

Also built into the lamp module but unused, are 2 optional analog to digital convertors so you can connect joystick or throttle controls to the unit. The lamp module can connect to other modules, also unused, so you can control additional LED's such as a spacecraft illumination LED array.

This product is designed for portable use and also for people that want to make a Lunar Lander or Command Module Simulator that is connected to the Internet. These are designed for museums, science centers, schools, and guys like you. (You know you want it) The back half of the DSKY is pictured. This DSKY, does not have any need for display relays or other electronics that are in a real DSKY so the back half of the DSKY and mid section ring is mostly empty. The mounting holes are precise and the back half is bolted in place with mil-spec Stainless Steel hardware. Since the Guidance Computer is included, and shrunk to the size of a finger nail, you don't need a separate AGC, but its hard to fire the rocket engine if you don't have one. The unit is 3d printed on Professional Stratasys Dimension 1200/768 printers and not a low quality home printer pressed into a commercial manufacturing role.

To enhance the manufacturing capabilities, I have 12 of these commercial printers. This is a quality product with. 01 inch resolution and finished/painted to look authentic.

These DSKY's are suitable for Museum and Science Center exhibits and kiosks and use Cherry Brand MX key switches rated for a million keystrokes. The paint and graphics will wear off before the keys wear out. (All graphics are replaceable though, including the keys) The software is upgrade-able over the Internet from the password protected maintenance menu (accessible from the DSKY keyboard) and does not assume you can operate a computer. Although product support is given and a "Cheat Sheet" of popular commands is provided, you should not expect training on how to operate an Apollo Guidance Computer.

There are many Internet sites devoted to this and books are available. If you damage your DSKY, it is most likely repaired by changing out the micro-sd card however this product includes a Virtual Network Server that allows remote or local access into your DSKY for servicing and testing. It is important to note that the DSKY has to be properly shut down or the memory can be corrupted. This happens to people who just yank the power cord or let the battery go dead while operating. Telemetrics LLC is making up to 156 of these available for the 50th anniversary of the moon landing, which is in July 2019.

The design and software are finalized and other than minor fixes, the product design is frozen at this level. There are improvements in the product as discovered so your DSKY is not exactly like the one pictured (Serial #1) The original DSKY/AGC was not not perfect and neither is this one, however this one is made so it can be repaired and upgraded easily and the wiring and software is documented. The current serial number is over #30. The simulator software runs full screen, can auto-start on boot, or double finger tap.

The 19 key USB keyboard has the keys 0,1,2,3,4,5,6,7,8,9, +, -, V, N, R, C, P, K, and "Enter" 3. An external 23key numeric pad (not included) has been remapped to use as another keyboard or a DEDA for the AGS. The graphics on the Digital Display can be changed if you desire a less crisp or different color.

You have a complete multi core, modern computer buried under the display with text editor, spreadsheet, games, and etc. You get a chance to write the scripts yourself if you want perfect realism.

The software, operating system, and cpu board is all open source. This is not a limited dead end product. Although I cannot release the parts or design files, you get all drivers required and a wiring diagram on request.

Accepts an external wireless (Bluetooth or 2.4ghz) keyboard, mouse, and stereo speakers. The touchscreen and stylus is included for use when in the non-DSKY mode. Additional LEDs are available for VNC ACTIVE, RUN, and SCRIPT ACTIVE. Additional keyboard input is available for your use to add 100+ keys for instrumentation/simulation.

Optional GPS/GYRO/IMU/MAGNETOMETER/ACCELLEROMETER/TEMP added through USB. Includes 20,000mah battery with digital percentage of remaining charge display. Stereo audio and Bluetooth Audio, not a lame beeper or sound chip player.

This DSKY plays movies, music, streaming Internet audio/video. Includes full back cover and mid section ring, and a free 2.4 amp, 4 device USB charger.

The software is done and there might be a few small problems but I haven't found them. The biggest challenge to this project was recreating the digital display with an off-the-shelf displays. The DSKY display module selection is very close to the actual size used and much much more affordable. The technology used in the 60's, forces various modern design changes so 100% realistic is not affordable. 98% is however and this is what you get. In addition, since you have a modern computer embedded under the display, you can do modern computer tasks. You can do it, but it is difficult. For this reason, the computer has a networking client on it so you may access it from a typical desktop computer networking client. I prefer Moba X-Term but some people prefer Real VNC.

This lets you use a full size display for servicing the DSKY. The computer has HDMI video and you could connect a conventional wide screen TV or computer monitor to it.

You will have to change video modes from the configured mode and you need some skills for that as computer support is not offered with this DSKY. There have been a huge number of changes over the life of this products development. This includes a complete change of the hardware and the software. It has been redesigned three times.

All pre-orders including serial #1 have been re-printed as the design matured. These early payers must receive their DSKY ahead of the new purchasers. Although The process is refined to the point that a DSKY can be built in 10 work days, it takes 120 machine hours (with the back half) minimum to print the parts for 1 unit at this resolution in solid ABS. It must be understood that these delays are multiplied by the number of pending orders and correction/revision orders, the design process has been frozen and rapid progress is being made in the fabrication department.

All you have to do is ask and it will be given, with 8% interest added. These are great investments and this price is subject to an increase. To enable the DSKY to easily connect to the Internet, you set your DSKY up with your WIFI name and password by navigating to the internal WiFi setup. This DSKY does not need the Internet to run and runs completely on its own. This would be a fun, free project for you if you want to participate.

This will be available separately and since it is networked, can be driven by any computer on the Internet including this DSKY. There is also a Scanning Telescope Sextant available.

One other note: I derived my own artwork and dimensions for this project from publicly available sources and actual artifacts in museums. It was a lot of detective work and research and has been in progress for at least 6 years. My dimensions might be off by as much as. 1 inch here or there, the color might be slightly off, and some things will not be exact. If you have more accurate dimensions or design rules I would like to incorporate them in this design. There are precious few of these actual items in existence to use as a reference so any helpful corrections would be enthusiastically welcomed.

The Lot size is 10 units between revisions and E-Bay only lets you stock a certain total value of all items in a lot. Extra Special thanks go to: The early DSKY purchasers, they have been exceedingly patient with the product design and time frame. The not so early DSKY purchasers, they pushed the project to completion. Ron Burkey, he is responsible for the vast improvement and majority of the DSKY software. Ron Burkey, again, he is responsible for the Virtual AGC (the core of this project) and many other huge tasks for this software.

NASSP, for making scripts and lots of work keeping track of historical records and software NASA, KSC, The Smithsonian, The Neil Armstrong Museum, M. Ratheon, Grumman, American, Teradyne, Honeywell and others. The many, many, people who worked on the Space program. The Apollonauts, The RPF web Site, Tony David Allen, Educraft, Fran Blanche, Amy from Vintage Space, Collectspace, others Sean Broadbent for the HUGE amount of support and encouragement on this project, Adam Savage, Scott Manley, Stratasys, Chi-Mei plastics, Raspberry Pi Foundation, Waveshare, Dupont, Dow Chemical, Haywood Community College Autodesk, Adobe, Microsoft, Skype, Ubiquity, Skyrunner Wireless, Mikotik, Hewlet Packard, Weller I could go on, this is a large multi year endeavor. I truly appreciate all the help I have received.

The item "Functional DSKY with Apollo Guidance Computer, runs all NASA/MIT Code" is in sale since Wednesday, March 20, 2019. This item is in the category "Collectibles\Historical Memorabilia\Astronauts & Space Travel\Exploration Missions\Apollo". The seller is "samammons" and is located in Waynesville, North Carolina. This item can be shipped worldwide.
Country/Region of Manufacture: United States
Type: DSKY
IMPORTANT.!