Genesis Offroad Dual Battery Kit 200 Amp Isolator & G Screen 12-18 Jeep Wrangler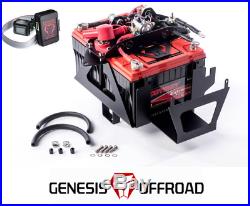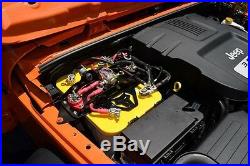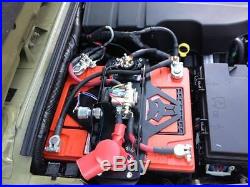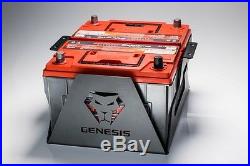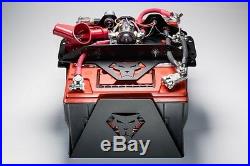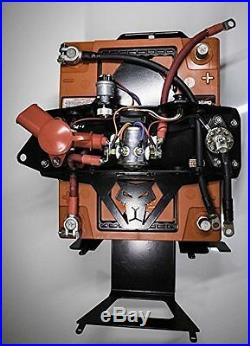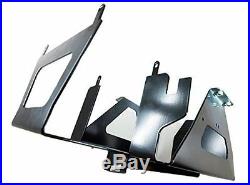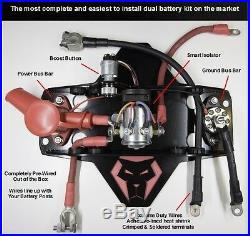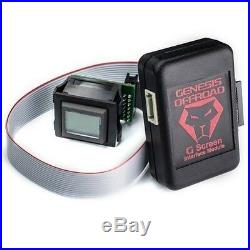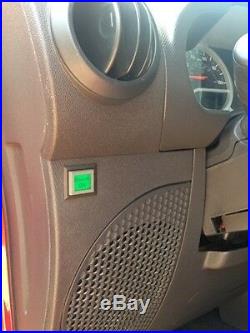 This is a brand new Genesis Offroad JK Dual Battery Kit with 200 Amp Isolator. We are an Authorized Dealer of Genesis Offroad and carry the full line of products. 12-'18 Jeep Wrangler JK 2 Door'12-'18 Jeep Wrangler JK Unlimited 4 Door.

Part #: 131-JKDBK2A & 141-GS. Genesis Offroad - JK Dual Battery Kit. Completely pre-wired out of the box Fits 3.8L, 3.6L, Hemi 5.7L & 6.4L, LS, and European diesel engines Boost switch included - jump start your vehicle off your second battery Power & Ground bus bars make it easy to connect accessories Smart Isolator automatically handles all charging functions NEW FEATURE! Interface port pre-wired for the G Screen monitoring system Integrated fuse box holder and evap solenoid holder Best quality wires, soldered and crimped connectors, sealed heat shrink tubing Powder coated for durability Proudly made in the USA The top cover plate has several innovative features in a simple package.

All of the wiring has already been done for you, and the smart isolator comes pre-installed. The welded gussets on top have holes with grommets to route the wires directly to the correct battery post, so there's no guess work involved to make the connections. Use the extra grommets for routing your own accessory wires cleanly and neatly to the power and ground bus bars. High quality battery terminal connectors are soldered and crimped to the flexible 2 gauge wire connecting the batteries together. With all the wiring integrated into the top plate, servicing your batteries has never been easier. Simply pull the terminals off the battery posts, remove the 4 easily accessible stainless fasteners securing the lid, and all the wiring can be lifted up and out of the way to service your batteries when necessary. The included smart isolator gives you automatic control of all the charging functions with no interaction required. Here's how it works. When both your batteries are fully charged at 13.2 volts, they are automatically connected and are charged at the same time.

When you park and turn off the engine, but continue to use accessories such as lights or the stereo or a CB, both batteries begin to drain down. When your main cranking battery reaches 12.7 volts, the smart isolator separates the batteries, so that your cranking battery will have enough power to start the engine.

The second battery continues to power your accessories for as long as it will last. After you crank the vehicle, your main cranking battery will be charged up to 13.2 volts first, and then the isolator will begin charging your accessory battery. By only charging one battery at a time, your alternator is protected from excessive strain.

What if your cranking battery is somehow drained down too low to be able to start the vehicle? We have a solution for that. Press the Start Boost button and the isolator will connect both batteries together for 1 minute, acting like built-in jumper cables to jump start your engine off your accessory battery.

As long as the combined voltage of the 2 batteries is at least 12.7 volts, you'll be able to start your vehicle instead of being stranded with a dead battery! The alternator will charge both batteries for 1 minute, then switches back over to automatic mode to reduce the strain on your alternator.

A remote status indicator light can be added on your dash to show you when the batteries are connected, indicating that they are both fully charged. Simply extend the white wire on the isolator to your indicator light, then to an accessory power source. Also includes high amp power AND ground bus bars.

The bus bars are already pre-wired to the accessory battery. Now you can quickly and easily connect your winch, lights, amplifiers, and lots more while keeping the wiring neat and orderly. Your winch or other high-amp accessories go onto the large center post on the bus bars, and all your other accessories go directly to the smaller screw terminals on the bus bars. Battery Options: Any Group 34 battery will fit this tray Optima Red Top is a good engine starting battery, but not recommended or warranted for use in deep cycle applications. 800 CCA, 50 Ah capacity, 100 minute reserve time Optima Yellow Top is a good high power, dual purpose engine start and deep cycle battery.

750 CCA, 55 Ah capacity, 120 minute reserve time Odyssey 34-PC1500T is for those who need the most capacity possible! Some Jeep owners like to do everything overkill just for peace of mind, so there's no downside to going with the upgraded version. Standard 85 amp - suitable for most general purpose uses, including Jeeps with a winch, lights, CB, etc. Upgraded 200 amp - highly recommended for Jeeps with multiple high amp draw accessories such as big stereo systems or lots of electrical components.

Required if using an aftermarket high output alternator. Fitment Info Engine compatability: 07-11 3.8L 12-18 3.6L European diesel engines (left hand drive only) Hemi engines - 5.7L, 6.1L, 6.4L LS engines including the new LS3 Power add-on compatibility RIPP Supercharger Prodigy Performance Turbo Magnuson Supercharger Sprintex Supercharger Snorkel compatibility: AEV Rugged Ridge Volant ARB Not compatible with the River Raider cowl snorkel Works with aftermarket air intake systems that use the factory air box space. Genesis Offroad - G Screen Monitoring Kit. Monitors voltage levels of both batteries Remote status indicator - batteries connected or disconnected Remote boost button - jump start the engine from inside the cab Press the screen for 3 seconds to activate the boost system Background changes color to visually show your battery status at a glance Green = both batteries are fully charged, and they are connected (Screen shows Boost On) Yellow = at least 1 battery is below 12.7v, and they are disconnected (Screen shows Boost Off) Red = at least 1 battery is below 12v Backgound light turns off after 1 minute of inactivity Preserves battery power No glare while driving at night Voltage and status is still visible, but without the backlighting If a battery drops below 12v, the screen flashes red a few times per minute Press the screen to turn the backlight on at any time Adjustable contrast Measures approximately one cubic inch.

Compact size makes it easy to mount anywhere. Includes a 10.5' wiring harness for simple, clean installation Software upgradable for future features.

To make your shopping experience as simple and easy as possible, please refer to our company policies shown below. Tracking numbers are updated manually, so please allow enough time for your information to be entered after your order has been placed. AZ Offroad & Performance, Inc. & will do everything possible to ensure the customer's satisfaction. We are not responsible for install mistakes.

The RA # must be on the outside of each package with the RA # in a visible area. Any package without the RA # will be refused. The item "Genesis Offroad Dual Battery Kit 200 Amp Isolator & G Screen 12-18 Jeep Wrangler" is in sale since Tuesday, November 3, 2015. This item is in the category "eBay Motors\Parts & Accessories\Car & Truck Parts\Engines & Components\Other". The seller is "azoffroadperformance" and is located in Phoenix, Arizona. This item can be shipped worldwide.
Modified Item: No
Country/Region of Manufacture: United States
Interchange Part Number: For use with Two Batteries JK JKU
Surface Finish: Black Powdercoat
Manufacturer Part Number: 131-JKDBK2A & 141-GS
Other Part Number: Works on all V6 & V8 Hemi engine swaps
Brand: Genesis Offroad
Non-Domestic Product: No
Warranty: Yes
Mounting Hardware Included: Yes