KISS-SSB Marine Radio SSB Ground Plane, Icom M802 and all others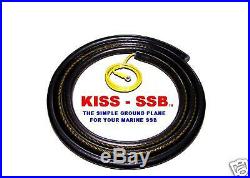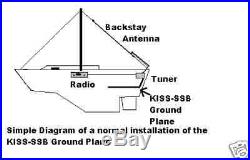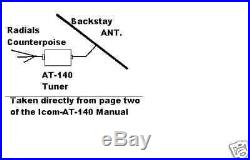 Our KISS-SSB is now used on a few NOAA research vessels! Check out the June, 2012 issue of Blue Water Sailing. There you will find a three page article on Marine SSB Use and the KISS-SSB received the best review of any other grounding system. A paragraph taken directly from the article. I have seen exactly one product for the marine market that does the same thing ham operators have been doing for nearly a century and I haven't a clue why it's not on every single SSB equiped boat. The KISS-SSB is a collection of radials designed specifically for marine frequencies. It's dead simple to install-looks like a short garden hose that you connect to your antenna tuner and then unwind anywhere you like. That's all there is to it. The new editions of Captain Marti Brown's SSB for Idy-Yachts and Commander Terry Sparks IC-M802 Made Simple For Cruisers dedicate a few pages to the KISS-SSB ground plane system. Both of these books are very helpful if your installing or using a marine SSB. These books are available at most West Marine Stores or Amazon. Works perfectly with Sailmail and Winlink! The three most complemented features are. 1-Better signal strength both sending and receiving. 2-Faster connection rate with Sailmail and Winlink. Congratulations to the racing yachts equiped with our KISS-SSB ground planes that won first place in their division in the 2012 Swiftsure International Yachts Race!! Are you confused with SSB grounding on your fiberglass or wooden boat? If you read up on grounding your SSB radio you will be confused, seems nobody is agreeing on what is the best. As seen in the magazines. Cruising World, Cruisers Outpost, Sail, Lattitude 38, 48 Degrees North, Blue Water Sailing and Practical Sailor. Our KISS-SSB is an Icom endorsed principal. It's a self-contained counterpoise radial ground system that is the perfect answer for trouble free Marine SSB communications.

This is not anything new, but very rarely used, why we do not know. The system of using pre-measured counterpoise ground radials is even suggested in every Icom, SGC Smart Tuner, and Furuno Auto-Tuner Manuals. Right now the most commonly used tuner is the Icom-AT-140 and if you look at page two you'll see the principals used in our KISS-SSB Ground Plane System. Link to the Icom AT-140 Manual. Counterpoise (An excerpt from the Icom AT-140 manual) Here is what they say.

Ground is not easily available, connect a counterpoise. (quarter wavelength) radial for each band. Install the counterpoise directly below the AT-140s ground terminal. Insulate the ends of each radial from other metal objects. Layout the radial horizontally and as straight as possible.

Here is the deal, our company owner Carl Nichols has been a licensed ham radio operator for 40 years, and has installed many SSB systems on boats. With over 30,000 miles of ocean passages on his own sailboat he has perfected the KISS-SSB ground plane not only on his own boat but hundreds of others. This Patented SSB Grounding / Counterpoise system "KISS-SSB" is by far the easiest to install, and works just as good or better as the copper foil/bonding system.

It comprises of a four foot lead that attaches to the "ground / counterpoise lug" on your tuner and then you just stretch out the remaining 10 feet of 1 diameter tubing that encloses the copper array of specific lengths of radiating copper wires and coils, all in an easy to install package. It is just that simple, run it along the hull, behind a cushion, in the cabinets, in the lazerett, etc. The perfectly measured lengths of copper and marine sealed radials act as an exact mirror image of your radiating backstay, whip, or GAM antenna, this is what bounces your radiated signal wave off your antenna. This system has been completely tested over the past ten years and the list of testimonials are countless. We have tested it up to 500 watts without any problems. Our KISS-SSB is perfect for all fiberglass or wooden boats, both sailing vessels and motor vessels.

We find that even many metal boat owners prefer the KISS-SSB over using their hull due to corrosion issues. This simple ground plane array is specifically designed for transmitting on all the common SSB channels and HF frequencies along with the ham bands 2mhz through 28mhz when used with a tuner. All of these frequencies have been tested to less than a 1.2 to 1 Standing Wave Reflection (SWR) with no power loss!

Not only is this easy to install, in our mind it just makes sense. 1 - No need to drill holes in the hull under the water line for a "bronze grounding plate". 2 - No need to run the messy copper foil everywhere. 3 - No need to bond all the thru-hulls.

4 - No maintenance keeping the underwater grounding plate clean. 5 - No drag when sailing.

6 - Can even be used when your boat is on the hard and not in the water. 7 - No need to constantly check all the copper foil connections or corrosion breaks.

It has been demonstrated that the bronze grounding plate is useless with out at least a 100 square feet of copper foil or mesh. Using measured radials for a ground plane / counterpoise has been around since the birth of radio in the Marconi days, just ask any ham radio operator.

Also let it be noted that there is not any maintenance with the KISS-SSB system, whereas the foil and underwater grounding plate system is always in need of cleaning and contact tightning. Radial Counterpoise Grounding System for Marine or Land use.

This heavy duty performer is designed primarily for boats using HF SSB marine bands. Input power up to 500 watts.

Copper conductors are permanently sealed in durable vinyl tubing. Stainless Steel 5/16 connecting lug.

Heavy duty 47 inch Marine Grade 10AWG copper lead connection. Tested with 1.2 to 1 or better SWR on SSB HF frequencies. 2-30 MHz HF band with tuner. 1.2 to 1 or better. I felt compelled to write you back and let you know that my wife and I couldn't be happier with your KISS grounding system. We removed all the corroded copper foil, it makes everything under the sole boards look so much better now without all that clutter. It only took about twenty minutes to install your Kiss-ssb system, and it presents itself very well.

We have an Icom 802 onboard and it has a built in SWR meter, after testing on most SSB channels we found that not only did your system work as well as you advertised, but it worked even better. All frequencies were 1.2 to 1 or better. I was talking to a friend later that afternoon on 6A and before I even told him of my new ground plane system he stated that my signal was really good and that the audio was better than what he was used to hearing from my rig. I went on to tell him about your system and he said that he is going to contact you for one himself. Thanks for delivering a product that lives up to it's advertised words and is reasonably priced.

We will help you pass the word and wish the best for you getting your wonderful product in the mainstream. In this day and age it is very refreshing to be so pleased. Wholly Cow, what a difference, my radio is thanking you!! My poor old radio that I was about to replace, most certainly is grateful, almost as much as my wallet!

After years of using an older SEA SSB transceiver, that always ran hot and the signal was always one of the worst out there, other boaters are asking if I have a new radio. It was a pleasant experience to rip all of that old copper foil out, and as soon as we do a haul-out remove the Dynaplate. Installing your KISS system was a very simple few minutes and I must admit, the name says it all. My radio runs cooler and people are saying that I have a very strong signal, what more could I ask for.

Keep up the good work, and thanks for keeping the price down. Here are a few of our feedbacks, or you may feel free to go check them out too. Anxious to test in boat, appears well made, much lrgr than anticipated!

Best thing since sliced bread, fast, well made and it WORKS. I'll pass the word.

It took less than a half an hour and it was up and tested, WOW! The item "KISS-SSB Marine Radio SSB Ground Plane, Icom M802 and all others" is in sale since Sunday, November 12, 2017. This item is in the category "eBay Motors\Parts & Accessories\Boat Parts\Electronics & Navigation\Radio & Communications". The seller is "alarmingone4me" and is located in Seattle, WA. This item can be shipped worldwide.
Brand: KISS-SSB
Manufacturer Part Number: 1017
Country/Region of Manufacture: United States