Ktm Rear Chain Guide Rcg-kt3 Tm Designworks All 125-530 2008-2022 Exe Sxf Exc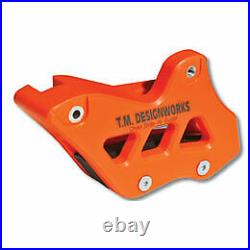 TM Designworks make premium quality products designed & built in the USA by people involved in the racing & off road riding community. Oil impregnated for improved wear life & UV protected, the products TM Designworks offer are guaranteed to outlast your stock or cheap aftermarket alternatives several times over. They are used by countless professionals, semi professionals & beginners the world over in all aspects of MX, XC & Enduro riding. The RCG-KT3 Factory Edition # 2 rear giuide is choose of KTM/Husky/Sherco factory race teams Worldwide.
Choose a TMD KTM orange, TMD Husqvarna dark blue, Swedish blue, Black. Or Sherco OE purple-blue color.
Used by KTM-Husqvarna-Sherco offroad teams worldwide exclusively amd has won over 30 championship titles. The secert is TMD Propritary plastic formula which absorbs impact and has memory return to position. Replaceable wear pad is available in 2 compounds choices. The best protection for swingarm cast bracket, side of sprocket and chain feed. No other product comes close to our attention to details and long term service life.
TMD has been issued USA Patents # D601,465 and Europeon Patent 3 1009005. KTM - (08 only)-690cc Super Enduro, (09-10) 690cc Enduro R. 07 SX & SX-F Models only.