MUCAR CS5 OBD2 Scanner ABS SRS ECM TCM System Code Reader Engine Diagnostic Tool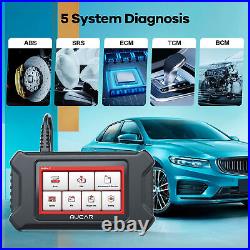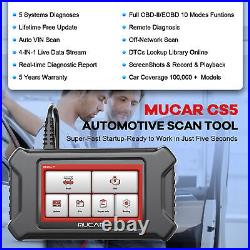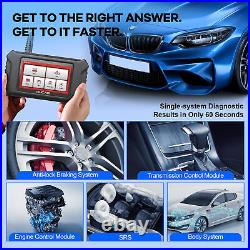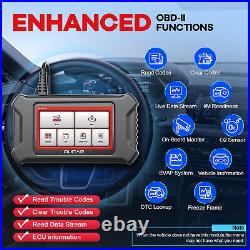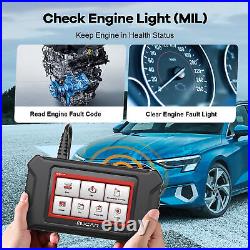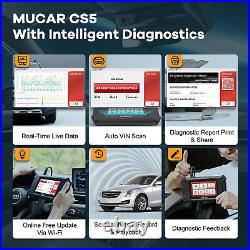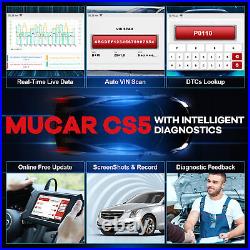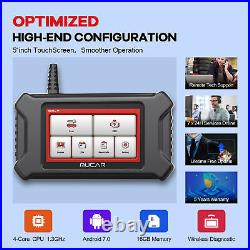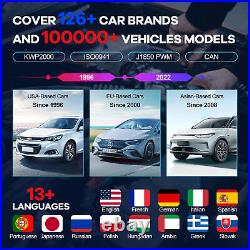 Why You Need MUCAR CS5? Are you troubled by the renewal of model software and functions?

MUCAR CS5 Support to 5 Systems(ABS/SRS/ECM/TCM/BCM) lifetime free. MUCAR CS5 Support to diagnostic ABS/SRS/ECM/TCM/BCM system errors, and delete the errors. MUCAR CS5 supports to do Full obd 2 function, including Read/Clear codes, data stream, I/M readiness, O2 sensor, DTC look up and more.... You can do screen shortcuts via I/M key with MUCAR CS5 devices, easy and fast 4. MUCAR CS5 Support to print Diagnostic Report data, checking errors 5.

MUCAR CS5 software update free lifetime. All Cars Free Lifetime 5 System(ABS/SRS/ECM/TCM/BCM) Diagnostic. This car obd2 scanner is capable of reading and clearing trouble codes of ABS/SRS/ECM/TCM Engine. Only supports 5 free systems, no reset function.

By accessing to ABS system to view its Live Data Stream, and retrieving the fault codes, this scanner can troubleshoot the ABS issue with a visual inspection of all brake components that caused the warning light, and turn the light off. By detecting every electronic parameters in SRS system to check their health status, this diagnostic tool can address the SRS potential issues timely to ensure your driving safety, and turn off the warning light of Airbag. You can diagnose the engine system via ecu obd2 port, support all 10 OBDII test modes, such as live data, O2 sensor test, component test and more;read and clear the engine error codes, find out the exactly problem, repair it, and turn off the MIL engine light. AT is a set of transmission used to coordinate the engine speed and the actual speed of the wheel, which is used to give full play to the best performance of the engine. MUCAR CS4 obd2 scanner can read/clear codes and view live data retrieve the error information from AT. Carry out fault diagnosis on body/frame/transmission system/steering system/brake system/driving system. Read extensive current, pending and permanent codes in OBD system quickly? Clear detected fault codes and turn off the Check Engine Light efficiently?

View graphical live data of vehicle's computer module(s) for easy analyses? View the vehicle's operating parameters at the moment a DTC is detected? Read I/M readiness status to have a vehicle inspected for state emissions compliance? Perform O2 sensor test to check fuel efficiency and vehicle emissions?

Read the results of on-board diagnostic monitoring tests for specific components/systems? Retrieve the vehicle information of VIN, CINs, and CVNs completely? Perform the component Test by allowing initiating a leak test for the vehicle's EVAP system.

Turn on the scanner 2. How to Register/Update MUCAR CS5. Turn on the Machine 3.

1MUCAR CS5 Host 1Manual 1Charging cable. Here is the Official Direct Online Store, All items are 100% Brand New. THINKCAR, the company was incorporated in Los Angeles, USA.

It is composed of a group of partners who love car modification, are proficient in car maintenance, and master mobile Internet technology. 80% of our team members have the technical background and have been engaged in technology research and development in related fields for many years.

User's experience is our priority. We expect to combine cutting-edge mobile Internet technology with traditional automobile diagnosis and testing technology, and solve problems encountered in automobile diagnosis and testing with higher efficiency and more convenient ways. Your satisfaction is our top goal. If you dissatisfied for any reason, Please don't be quick to leave negative / neutral feedback.

We work hard to make sure EVERY CUSTOMER 100% SATISFIED. Nice people deserve best service. No negative/neutral feedbacks or opening cases are unreasonable before contacting us for a solution of occasional and unwanted problem. Trust is one of the most important thing among people!

All the products in my shop have local warehouses in the United States, Britain, France, Germany, and Australia. With self-built warehouse in Wolverhampton and stock in official ebayg warehouse, both can be delivered within 2 days. (Excluding contrived damagement or misusage). We devote ourselves making EVERY CUSTOMER in 100% Satisfactory and resolve any problem. We highly value and appreciate your business. Returning items must be in original condition (no used in any way) and with all original package, manuals, and accessories. As we believe most cases can be resolved through our good communication.

All messages will be answered within 24 office hours! ThinkScan Plus S7 OBD2 Scanner Car Engine Diagnostic Scan Tool EOBD Code Reader. MUCAR CS90 OBD2 Scanner ECM Engine Fault Code Reader Car Diagnostic Scan Tool. ThinkTool Mini OBD2 Scanner Full System Code Reader Car OBD Diagnostic Scan Tool.

Thinkcar G2 TPMS Programming Car Diagnostic Tire Pressure Monitor System Tool. MUCAR CDE900 OBD2 Scanner Car Engine Fault Code Reader Diagnostic Scanner Tool.

ThinkTool Mini 2 All System Car Diagnostic Tool OBD2 Scanner Bi-Directional Test. ThinkOBD 100 Auto Diagnostic Vehicle Fault Engine Code Reader OBD2 Scanner Tool. THINKCAR 2 Bluetooth OBD2 Scanner All System Diagnostic Scan Tool TPMS Oil Reset. ThinkCar Pro OBD2 Scanner ABS SRS All System Diagnostic Tool 5 Service Resets. MUCAR BT200 Car Diagnostic OBD2 Scanner Code Reader All System Diagnostic Tool.

MUCAR CS2 OBD2 Scanner Car Engine Fault Code Reader Oil EPB TPMS Reset ABS SRS. ThinkDriver OBD2 Scanner Code Reader Full System Diagnostic Tool SAS Oil Resets.