MUCAR VO6 EOBD2 Auto All System Diagnostic Scanner Tool ECU Coding Bidirectional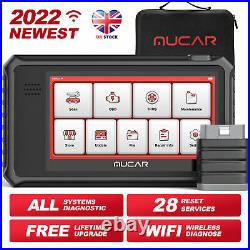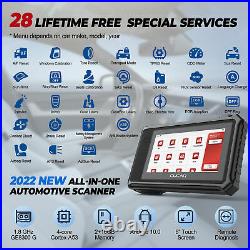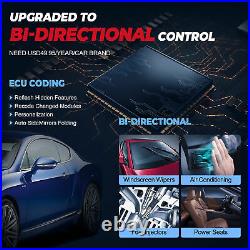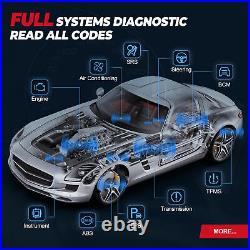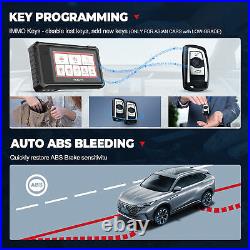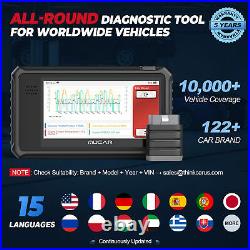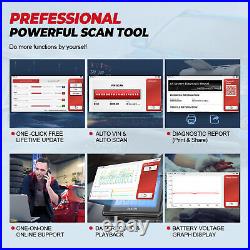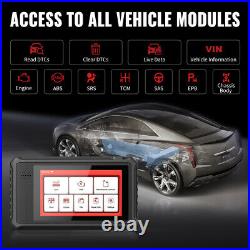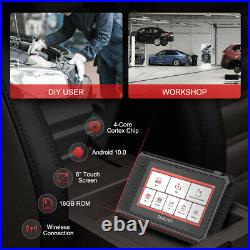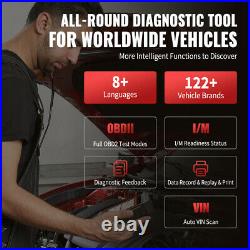 Why You Need MUCAR VO6? MUCAR VO6 as the 2021 Highest-level FULL OBD II Diagnostic Device For DIY users supported include Code Reading/Clearing data stream, Actuation Test, Special Functions etc. Free system-wide code reading, code clearing, data streaming and upgrades for all models.

The full reset function is free to use (currently 16 and will be increased to 26-28 later). After subscribing to the software, the whole system can be diagnosed with full functions (action test, special function, cding can be carried out). Android system can be upgraded online. The whole system diagnoses more than 93 automobile brands.

Diagnosis covers all models that support OBD protocol after 1996. Equipped with VIN code intelligent identification models. MUCAR series design, dustproof, shockproof, easy to store 9.5.99-inch display is convenient for you to diagnose the car in real time 10.2G RAM/ 16G ROM, Support Bluetooth and WiFi connection 11.

Pay for one Car model software can enjo. Y the whole system can be upgraded with full system full functions, S. Uch as :ECU Coding/ Action Test and other Special Function Cost.

Intelligent diagnosis, automatic identification of vin, enter the diagnosis system 2. Maintenance service, maintenance service download, enter the system 3. MUCAR mall, subscription software, software upgrade, realize full-function diagnosis 4. Online upgrade, The software version can be updated 5.

Vehicle files, save the data records of the detected vehicles, such as: report 6. Nsert the connector into the vehicle OBD interface, and the host can be connected to the connector. In the intelligent diagnosis mode, it can automatically read the vin identification vehicle information.

If the special vehicle cannot be identified, the vehicle can also be manually selected for detection. After entering the system, the basic functions of the whole system of the vehicle can be tested (not including: action test, special function, cding), code reading, code clearing, real-time data flow chart display, combined display can be performed. Support obd full-function intelligent diagnosis.

Cost: 49.95 USD Valid for 1 year, free upgrade during the valid period. Brake the limitations and restrictions; make full use of the car hidden features, like change the chimes on car, set how many times the one-touch signal flickers for one touch, remember settings for Start/Stop systems, and more. Support Active Test (Actuation Test). Lifetime Free All Cars Full System Diagnostic.

With superior all systems diagnoses, this multipurpose obd2 scanner can be used to read all available systems'ECU information to facilitate the vehicle diagnosis. The complete systems vary from different cars and they usually include engine, transmission, ABS, SRS, SAS, TPMS, EPB and chassis / body / electrical equipment system etc. Examinate your car like a professional mechanical technician Read DTCs from the vehicle's all electronic control systems to locate problem areas, and offer solutions; Erase the codes easily after DTCs retrieving and certain repairs have been carried out and turn off fault Indicator lamp; Live data shows each sendor parameter item displayed in analog, text, waveform graph modes etc. The active test used to access vehicle-specific subsystem and component tests. Lifetime Free All Cars 28 Reset Services.

Oil Reset The lightening of the car maintenance light indicates that the vehicle needs maintenance. Reset the mileage or driving time to zero after the maintenance, so the maintenance light will go out and the system will start a new maintenance cycle. Steering Angle Reset To reset the steering angle, first find the relative zero point position for the car to drive in straight line. Taking this position as reference, the ECU can calculate the accurate angle for left and right steering. Battery Matching This function enables you to perform a resetting operation on the monitoring unit of vehicle battery, in which the original low battery fault information will be cleared and battery matching will be done.

ABS Bleeding When the ABS contains air, the ABS bleeding function must be performed to bleed the brake system to restore ABS brake sensitivity. Break-pad Reset lf the brake pad wears the brake pad sense line, the brake pad sense line sends a signal sense line to the on-board computer to replace the brake pad. After replacing the brake pad, you must reset the brake pad. Gear Learning After the engine ECu, crankshaft position sensor, or crankshaft flywheel is replaced, or the DTC'gear not learned' is present, gear learning must be performed. IMMO Service To prevent the car being used by unauthorized keys, the anti-theft key matching function must be performed so that the immobilizer control system on the car identifies and authorizes remote control keys to normally use the car. Injector Coding Write injector actual code or rewrite code in the ECU to the injector code of the corresponding cylinder so as to more accurately control or correct cylinder injection quantity. TPMS Reset Note:Cooperate with wireless tire pressure diagnosis tool to realize TPMS activation, programming and learning functions 12. Suspension Matching This function can adjust the height of the body. When replacing the body height sensor in the air sus pension system, or control module or when the vehicle level is incorrect, you need to perform thisfunction to adjust the body height sensor for level calibration. AFS Reset This feature is used to initialize the adaptive headlamp system. A/T Learning This function can complete the gearbox self-learning to improve gear shifting quality. Sunroof Initialization This function can set the sunroof lock off, closed when it rains, sliding /tilting sunroof memory function, temperature threshold outside the car etc. EGR Adaption This function is used to learn the EGR valve after it is cleaned or replaced. ODO Reset ODO reset is to copy, write, or rewrite the value of kilometers in the chip of odometer by using a car diagnostic computer and data cable, so that the odometer shows the actual 18. Airbag Reset This function resets the airbag data to clear the airbag collision fault indicator.

A/F Reset This function is applied to set or learn Air/Fuel ratio parameters. Stop/Start Reset This function is used to open or close the automatic start-stop function via setting the hidden function in ECU(provided that the vehicle has a hidden function and supported by hardware). NOx Sensor Reset NOx sensor is a sensor used to detect the content of nitrogen oxides (NOx) in engine exhaust. Lf theNOx fault is re-initialized and the NOx catalytic converter is replaced, it is necessary to reset the catalytic converter learned value stored in the engine Ecu. AdBlue Reset (Diesel Engine Exhaust Gas Filter) After the diesel exhaust treatment fluid (car urea) is replaced or filled up, urea reset operation is required.

Seat Calibration This function is applied to match the seats with memory function that are replaced and repaired. Coolant Bleeding Use this function to activate the electronic water pump before venting the cooling system. Tyre Reset This function is used to set the size parameters of the modified or replaced tire. Windows Calibration This feature is designed to perform door window matching to recover ECU initial memory, and recover the automatic ascending and descending function of power window.

Language Change This function is used to change the system language of the vehicle central control panel. Read extensive current, pending and permanent codes in OBD system quickly -Clear detected fault codes and turn off the Check Engine Light efficiently -View graphical live data of vehicle's computer module(s) for easy analyses -View the vehicle's operating parameters at the moment a DTC is detected -Read I/M readiness status to have a vehicle inspected for state emissions compliance -Perform O2 sensor test to check fuel efficiency and vehicle emissions -Read the results of on-board diagnostic monitoring tests for specific components/systems -Retrieve the vehicle information of VIN, CINs, and CVNs completely -Perform the component Test by allowing initiating a leak test for the vehicle's EVAP system. 4 IN 1 Scientific Data Management: Live Data Stream Graph & Record Data & Diagnosis Record Playback & Print Report.

The professional vehicle scanner tool can scientific graph data, record data, play back data, freeze frame, and print reports. In the real-time diagnosis process, important diagnosis information can be instantly stored in the memory, including reading of fault codes and frozen frames and real-time data streams. After real-time diagnosis is completed, Diagnosis function record playback, the diagnosis information and process previously saved in the memory can be replayed to facilitate the analysis of various data information. Do you want to use your native language for diagnosis?

Don't worry, MUCAR VO6 provides multiple languages for you to switch, English, French, Spanish, German, Russian, Italian, Portuguese, Japanese, Polish. Support 128+ Worldwide Vehicle Coverage. European and American area For Ford Europe.

The Great Wall in cars. How to Register/Update MUCAR VO6. Turn on the Machine 3. Here we list some common questions and answers related to this tool.

Q: Why does it have no responses when connected to a car computer? A: Check whether the connection with the vehicle diagnostic socket is normal, whether the ignition switch is on, and whether the tool supports the car. Q: Why does the system stop while reading the data stream? A: This may be caused by loose diagnostic dongles. Please unplug the dongle and reconnect it firmly. Q:Communication error with vehicle ECU? Whether diagnostic dongle is correctly connected. Whether ignition switch is ON. If all checks are normal, send vehicle year, make, model and VIN number to us using Feedback feature. Q: Why does the host screen flash when the engine ignition starts? A: It is normal and caused by electromagnetic interference. Q: How to upgrade the system software?

Start the tool and ensure a stable Internet connection. Complete the process by following the instructions on the screen step by step. It may take a few minutes depending on the internet speed. After successfully completing the upgrade, the tool will automatically restart and enter the main interface. Q: Please explain the account and points.

A: To use MUCAR VO6, you need to register an account. 1 point can be deducted for 1 dollar when purchasing products or services Q: How to capture the screenshot? A: AScreenshot icon is always floating on the screen. Tap it to capture the current screen and the screenshot is saved in the Think File module. Display Screen :5.99-Inch/TFT(IPS) Connection :Wi-Fi/Bluetooth RAM:2G ROM:16G Working Temperature : 32? 1MUCAR VO6 Host 1Diagnostic dongle 1Charging cable 1Multi-Language Manual 1power adapter. The company was incorporated in Los Angeles, USA. It is composed of a group of partners who love car modification, are proficient in car maintenance and master mobile Internet technology. 80% of our team members have technical background and have been engaged in technology research and development in related fields for many years. We expect to combine cutting-edge mobile Internet technology with traditional automobile diagnosis and testing technology, and solve problems encountered in automobile diagnosis and testing with lower cost, higher efficiency and more convenient ways. We are committed to the production of the world's smallest OBD products, with most complete functions, the cost control to the extreme, the function to the most perfect. User's experience is our priority.

By launching practical vehicle tools with Internet functions, we build up the "mucar" brand series of products and services. Company Address: 720 S Rochester Ave Unit B, Ontario, CA 91761. Factory Address: 2606 #4 block, Tian'an Cloud Park Bantian, Longgang District, Shenzhen, China. Otherwise a Unpaid Item case will be opened to you. We are the official store of MUCAR.

If 30 days later, or the item has been used, we have the right to reject your claim. Business time: GMT8 (9:00-18:00) from Monday to Friday. [FREE UPDATE] Thinktool mini Professional OBD2 Scanner Car Diagnostic Tool TPMS. THINKCAR Pro OBD2 Scanner Buletooth Car Diagnostic Scanner Oil IMMO SAS Reset. MUCAR OBD2 Code Reader Engine Diagnostic Scanner Reset Tool ABS SRS Oil DPF IMMO.

MUCAR CS4 Car OBD2 Scanner ABS SRS ECM TCM System Auto Diagnostic Reset Tool. THINKTPMS G1 Tire Pressure Testing Equipment Tyre Pressure Fault Diagnosis Tool. Thinkcar thinktool PD8 TPMS Tool Bi-Directional Scan Tool Advanced ECU Coding UK. All System OBD2 Scanner Bluetooth ABS EPB SAS ABS DPF Reset Car Diagnostic Tool.

Thinkscan Plus Automotive OBD2 Scanner Diagnostic Reset Tool ECM ABS SRS BCM TCM. ThinkScan Plus S5 Auto Scanner Diagnostic Tool OBD2 Code Reader Engine SRS ABS. ThinkScan Plus S6 OBD2 Scanner Code Reader ECM/TCM/ABS/SRS Car Diagnostic Tool. THINKCAR Pro OBD2 Scanner Bluetooth OBD Code Reader Scan Tool ABS SRS ECM TCM UK.

THINKCAR2 Car OBD2 Scanner Bluetooth All System ABS SRS TPMS IMMO Oil Reset UK. This item is in the category "Vehicle Parts & Accessories\Garage Equipment & Tools\Diagnostic Equipment & Tools\Code Readers & Scanners".

The seller is "thinkcar-official-store" and is located in this country: GB. This item can be shipped to United Kingdom.
Accessories: Adapter Cable, Software Disc, User Guide
Advantage1: All Systems Diagnoses, ECU Coding, Active Test
Advantage2: 28+ Special Reset Functions Full OBD2 Functions
Advantage3: 8 Expandable Module Functions
Brand: MUCAR
Connectivity: WiFi
Country/Region of Manufacture: United States
Country/Region of Manufacture design: California design United States
Display Screen: 5.99-Inch/TFT(IPS)
Feature: All Systems Diagnoses, ECU Coding, Active Test
Feature 1: ECU Coding
Feature 2: Active Test (Actuation Test)
Feature 3: 28 Reset Services
Feature 4: Full OBDII Functions
Feature 5: Support 9 Multi-Langauge
Feature 6: 128+ Worldwide Vehicle Coverage
Features: Check Engine Light Shut Off, Erases Codes, Freeze Frame Displays, Internet Updateable, Multi-Language Interface, User Friendly
Language: English,German,Spanish,French,Italian,Portuguese,Russian etc.
Material: 100% THINKCAR Original and Premium
Memory: 32G
Model: MUCAR VO6
OBD Interface: CAN, EOBD, OBD, OBDII
Operating System: Android 7.0
RAM: 2G
Reset services 1: IMMO,Key Oil Reset,EPB Reset,SAS Reset,TPMS Reset
Reset services 2: DPF Regeneration,BMS Reset,Anti-theft matching
ROM: 16G
Screen Size: 5.99 inch HD IPS Touch Screen
Storage: 32G
Storage Temperature: -4℉~144℉
Supported System: ABS, DPF, EPB, Full systems, SAS, SRS, TPMS
Type: Vehicle Auto Professional OEM Diagnostic Scanner
Type1: Full System Scan Tool(ECM,TCM,TPMS,SRS,ABS etc)
Type2: Actuation Test Tool ECU Coding
Type3: Car OBD2 Professional Diagnostic Tool
Update: Free Update Online
Vehicle Type: Passenger Vehicle
Version: 2022 Newest Updated Global Version
Warranty: 5 Year
Working Temperature: 32℉~122℉