MUCAR VO6 OBD2 Scanner Diagnostic Tool ECU Coding Android 10 WiFi Lifetime Free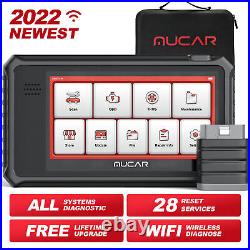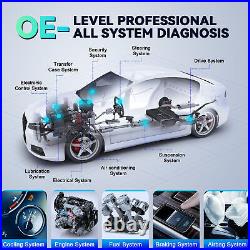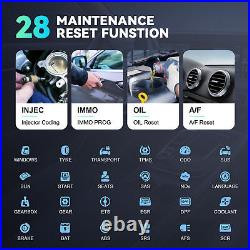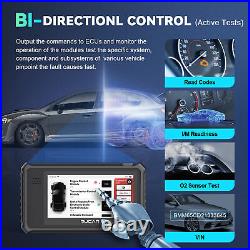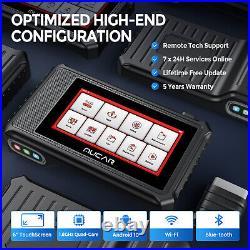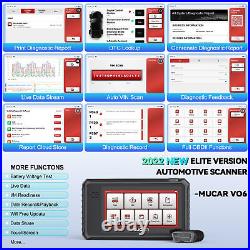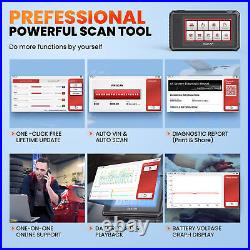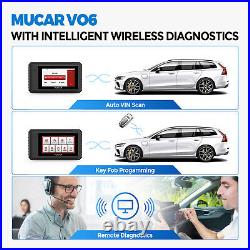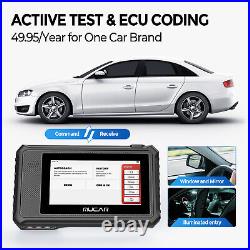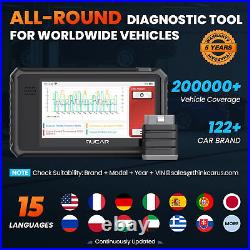 MUCAR VO6 CAR SCANNER - Real Full System Diagnosis + 28+ Life-time Free Resets + TPMS Functions Automotive Tools Diagnostic Scanner Free Update. Be Professional With Professional Car Diagnostic Scanner For All Cars. MUCAR VO6 OBD2 scanner is the 2022 newest upgraded diagnostic scan tool based on Android 10.0 system, which can realize a comprehensive full system standard OBD/EOBD protocol diagnostics and 28+ maintenance reset services. And more importantly, compared with expensive scan tool over USD 1000, MUCAR VO6 scan tool comes with advanced vehicle diagnostic solutions at a lower cost, including bi-directional control and ecu coding. You can effectively perform basic and advanced maintenance on modern cars and can handle almost all car maintenance situations you can think of.

Ideal for repair business to target new revenue stream. OE-Level Full Systems & Subsystems Diagnostics: MUCAR VO6 OBD2 scanner provides lifetime free diagnoses for the ENTIRE car system, allows you deeply access and diagnose all vehicle ECU systems and subsystems including Body, Chassis, Powertrain, Fuel system, Light system, etc. Such as ABS/SRS/ECM/TCM/BCM/TPMS and so on; and most of the subsystems, such as Immobilizer, Air Conditioning, Headlamp Leveling, Audio Systems, Windows, Door Motors. Fast Scan and Read/Clear fault codes in seconds, effectively turn off the warning light.

Do not miss any system failures, maintain the health of the vehicle, thereby maintaining the life safety of every family member. 28 Reset Services: MUCAR VO6 scan tool for all vehicles has a lifetime free 28+ reset functions that help restore/reset the ECU modules related in seconds after repair and can be upgraded with One-Touch, including OIL(Oil Maintenance Light Reset), SAS(Steering Angle Reset), Injector Coding, IMMO(Anti-theft Matching), DPF Regeneration, EGR Adaption, ABS Bleeding, AdBlue, ETS(Throttle Matching), TPMS Reset, EPB Reset, Tire Reset, AFS Headlamp Reset, Sunroof Initialization, BMS(Battery Reset), Seat Calibration, SRS(Airbag Reset), A/F Reset, Gearbox Reset, Transport Mode, Windows Calibration, Language Change, Suspension Reset, ODO Reset, NOX Sensor Reset, Stop/Start Reset, Coolant Bleeding, Gear Reset(AT Learning). Optional Special Functions: MUCAR VO6 OBD2 reader supports Bi-directional Control, ECU Coding and other advanced functions, Only 49.95/year/make, such as Chrysler, Volvo, Dodge, etc. Bidirectional Control helps activate or test mechanical components. ECU Coding helps reflash hidden functions and helps initialize, match and reprogram adaptive data for new components (ECU/modules) after making repairs or replacements. Auto VIN Scan: Automatically identifies your car quickly. Shorten the diagnostic time and help you solve the problem accurately, can quickly scan the vehicle identification number.

Load the latest version, bug fixes, new vehicle models coverage, newly added parameters, and functionality on your scanner. Wider Vehicle Coverage: MUCAR VO6 automotive scan tool conducts a comprehensive system-wide diagnosis for most OBDII compliant vehicle after 1996 for American, European, Australia, Asian car models, upgrade car makes up to 2021 models, including cars, SUVs, minvans, 12v light-duty trucks. If you are not sure the compatibility for desired functions on your car, please ask questions via message or QA, and also you can check the compatibility by yourself at MUCAR brand official website - COVERAGE - search VO6 - search your car brand & year. Full OBDII Special Services: Complete obd2 functions included, such as Read/Clear Codes, Freeze Frame Datas, Live Datas, O2 Sensor Test, EVAP Systems, I/M Readiness, On-board Monitor, Vehicle Information. WiFi & Bluetooth Connection: MUCAR VO6 car code reader diagnostic is equipped with WiFi (2.4Ghz & 5Ghz), with a linear transmission distance of 50 M, which can be used/downloaded normally.

It is equipped with Bluetooth 5.1. It can be used smoothly without jamming, throw away the wires, and hold the car scanner to check and diagnose the whole car. Powerful Datas Collection & Processing: MUCAR VO6 code scanner supports 4 in 1 live data monitoring for most of vehicle systems and sevurity parameters, data saves, reads, screenshot, screen recording, and prints health reports.

The health report which takes all system error codes, interprets them, and actually shows you possible causes and potential fixes. You can share and print the diagnosis report via PC. MUCAR support is top-notch so you won't be on your own if there's ever an issue with your new OBD2 scanner. Outstanding Operating System: MUCAR VO6 car diagnostic tool is equipped with powerful Android 10.0 system, Quad-core 1.8GHz processor, 3150mAH long-life battery.

Built-in 2G RAM (random access memory), 16G ROM (read only memory) for more vehicle programs. There is no longer the anxiety of low memory. Sensitive Large screen: 6-inch LED capacitive touchscreen, 1024×600 resolution. IU-level design page, the visual effect is clearer and more beautiful. 14 Languages Support: English, French, German, Italian, Spanish, Portuguese, Japanese, Russian, Polish, Hungarian, Arabic, Greek, Slovak, Chinese Traditional. Online Maintenance Resources: Operating skills, DTC help, automotive technical manuals, service cases, online support, remote tech support and operating videos. Incoming tutorial videos of different functions will be gradually updated on the scanner. No matter for those who know how to do repair or not, it allows you to grasp and understand car breakdown problems more quickly. A Carry Bag Included: A protective carry bag is attached to the package. It is not only convenient to carry, but also provides excellent protection for the product.

With superior all systems diagnoses, this multipurpose obd2 scanner can be used to read all available systems'ECU information to facilitate the vehicle diagnosis. The complete systems vary from different cars and they usually include engine, transmission, ABS, SRS, SAS, TPMS, EPB and chassis / body / electrical equipment system etc.

Examinate your car like a professional mechanical technician Read DTCs from the vehicle's all electronic control systems to locate problem areas, and offer solutions; Erase the codes easily after DTCs retrieving and certain repairs have been carried out and turn off fault Indicator lamp; Live data shows each sendor parameter item displayed in analog, text, waveform graph modes etc. The active test used to access vehicle-specific subsystem and component tests. Support 28 Reset Services Lfietime Free. Oil Lamp Reset Service Allows you to perform reset for a new calculation of Engine Oil Life system once changed the oil. EPB Electronic Park Brake Reset It is important in the maintenance of electronic braking system's safety and efficiency.

BAT battery service Allows the scan tool to evaluate the battery charge state, monitor the close-circuit current, register the battery replacement, and activate the rest state of the vehicle. DPF Diesel Particulate Filter Reset Specially works for Diesel Particulate Filter system with DPF regeneration, DPF component replacement teach-in and DPF teach-in after replacing the engine control unit.

SAS Steering Angel Sensor Reset Helps clear the fault steering angle sensor memories and plays an important role in the steering angle sensor calibration. TPMS Tire Pressure Monitoring System Reset Makes sense in displaying sensor IDs from the vehicle's ECU, inputting TPMS sensor replacement IDs and testing sensors. IMMO Key Programming The unique car key programming and read pin code function, it is mainly used to disable the lost vehicle keys and program a new replacement key fob. ABS Bleeding ABS brake bleeding to get a firm brake pad after air exhaustion after repair ABS pump system.

Sunroof Reset The sunroof needs to be reset when the sunroof control unit have communication problem or changed. Suspension Reset Try reset electronic suspension air ride with the massage system close all doors koeo flip through messages system go to suspension reset or on off. Gearbox (Transmission)Reset Procedure Reset Transmission Adaptive Learning DIY. Start the car and drive. Once you perform this procedure the Engine Control Unit (ECU) and Transmission Control Unit (TCU) will work together to learn how you drive by monitoring your driving pattern.

After you follow this programming method of the TCU / ECU drive the car. AFS Headlamp Reset'AFS' means Adaptive Front lighting System (at night with the Bi-Xenon headlights) it swivels either side, pressing that button means they stay pointing straight ahead and don't turn when you turn the steering wheel. Injector Coding Leaking injectors and some dead injectors can be missed even when an injector is disabled. Other problems with the ignition system and mechanical components also may not show an rpm loss when an injector is turned off. Throttle Adaptation The throttle body is a tube containing a pivoting flat valve (butterfly) that is used to control the amount of air entering an engine.

In an electronically fuel injected car, a throttle position sensor and air flow sensor communicate with the computer, which supplies the corresponding amount of fuel needed at the injectors. It must need re-learning throttle sensor position after clearing or repair.

Gear Learning The scan tool monitors certain camshaft position sensors signals to determine if all conditions are met to continue with the procedure for Engine running. EGR Reset Reduce nitrogen oxides (NOx) in the exhaust gas and improve fuel economy at partial load. A/F Reset This function is applied to set or learn Air/Fuel ratio parameters. Adblue Reset(Diesel Engine Exhaust Gas Filter) After the diesel exhaust treatment fluid (car urea) is replaced or filled up, urea reset operation is required. Airbag Reset This function resets the airbag data to clear the airbag collision fault indicator.

Coolant Bleeding Use this function to activate the electronic water pump before venting the cooling system. When the gearbox is disassembled or repaired (after some of the car battery is powered off), it will lead to shift delay or impact problem. In this case, this function needs to be done so that the gearbox can automatically compensate according to the driving conditions so as to achieve more comfortable and better shift 22. Language Change This function is used to change the system language of the vehicle central control panel. Nox Sensor Reset Nox sensor is a sensor used to detect the content of nitrogen oxides (Nox) in engine exhaust. Lf the Nox fault is re-initialized and the Nox catalytic converter is replaced, it is necessary to reset the catalytic converter learned value stored in the engine Ecu. ODO Reset a ODO reset is to copy, write, or rewrite the value of kilometers in the chip of odometer by using a car diagnostic computer and data cable, so that the odometer shows the actual mileage. BUsually when the mileage is not correct due to the damaged vehicle speed sensor or odometer failure, it is necessary to do ODO reset after maintenance. Stop/Start Reset This function is used to open or close the automatic start-stop function via setting the hidden function in ECU(provided that the vehicle has a hidden function and supported by hardware). Seat Calibration This function is applied to match the seats with memory function that are replaced and repaired.

Windows Calibration This feature is designed to perform door window matching to recover ECU initial memory, and recover the automatic ascending and descending function of power window. Read extensive current, pending and permanent codes in OBD system quickly -Clear detected fault codes and turn off the Check Engine Light efficiently -View graphical live data of vehicle's computer module(s) for easy analyses -View the vehicle's operating parameters at the moment a DTC is detected -Read I/M readiness status to have a vehicle inspected for state emissions compliance -Perform O2 sensor test to check fuel efficiency and vehicle emissions -Read the results of on-board diagnostic monitoring tests for specific components/systems -Retrieve the vehicle information of VIN, CINs, and CVNs completely -Perform the component Test by allowing initiating a leak test for the vehicle's EVAP system. English, French, German, Italian, Spanish, Portuguese, Japanese, Russian, Polish, Hungarian, Arabic, Greek, Slovak, Traditional Chinese. Support 126+ Car Brands and 1000+ Vehicles. USA: BXGM, CHRYSLER, AUSTFORD, GM, USAFORD.

EUROPE: ASTONMARTIN, AUDI, BENZ, BMW, BXFIAT, CITROEN, FERRARI, FIAT, GAZ, LANDROVER, MASE, RATI, OPEL, PAZ, PEUGEOT, PORSCHE.. Asia: BAIC, CHANGAN, CHANGCHENG, CHANGHE, DAEWOO, DAIHATSU, DFXK, FLYER, FUTIAN, HAFEL HMAZDA, HONDA, HUACHEN, HYUNDAI, IKCO, INDIANMARUTI, INDIANTATA, ISUZU, IVECO. IZH, JACTY JIAO, JINLONG, JOYLONG, JPISUZU, KIA, LIFAN, LIUWEITY, LUXGEN, MAHINDRA, MALAYSIA PERODUA, MALAYSIA PROTON, MARUT, MAXUS, MAZDA, MITSUBISHI..

Brake the limitations and restrictions; make full use of the car hidden features, like change the chimes on car, set how many times the one-touch signal flickers for one touch, remember settings for Start/Stop systems, and more. Support Active Test (Actuation Test). 4 IN 1 Scientific Data Management: Live Data Stream Graph & Record Data & Diagnosis Record Playback & Print Report. The professional vehicle scanner tool can scientific graph data, record data, play back data, freeze frame, and print reports.

In the real-time diagnosis process, important diagnosis information can be instantly stored in the memory, including reading of fault codes and frozen frames and real-time data streams. After real-time diagnosis is completed, Diagnosis function record playback, the diagnosis information and process previously saved in the memory can be replayed to facilitate the analysis of various data information. Show the detailed description of the Diagnostic Trouble Code (DTCs).

Turns off Check Engine Light (MIL), clears codes and resets monitors. Reads and displays live ECU/PCM data stream, plotting functions graphically and stores freeze frame data. Shows whether the various emissions-related systems on the vehicle are operating properly and are ready for inspection and maintenance testing. Turn on the MUCAR VO6 scanner 2. Print Via PC & Ready Support.

Mucar support is top notch so you won't be on your own if there's ever an issue with your new OBD2 scanner. Display Screen :5.99-Inch/TFT(IPS) Connection :Wi-Fi/Bluetooth RAM:2G ROM:16G Working Temperature : 32? 1MUCAR VO6 Host 1Diagnostic dongle 1Charging cable 1power adapter. This item is in the category "Vehicle Parts & Accessories\Garage Equipment & Tools\Diagnostic Equipment & Tools\Code Readers & Scanners". The seller is "thinkcar-teck" and is located in this country: GB.

This item can be shipped to United Kingdom.
Brand: MUCAR
Manufacturer Part Number: MUCAR VO6
OBD Interface: CAN, EOBD, OBD, OBDII
Supported System: ABS, DPF, EPB, SAS, SRS, TPMS, Full systems
Connectivity: WiFi
Vehicle Type: Passenger Vehicle
Accessories: Adapter Cable, Software Disc, User Guide
Features: Check Engine Light Shut Off, Erases Codes, Freeze Frame Displays, Internet Updateable, Multi-Language Interface, User Friendly
Country/Region of Manufacture: United States
Warranty: 5 Year
Advantage 1: One-Click Update
Advantage 2: All Systems +28 Reset Functions Free
Advantage 3: Keypad & Touchscreen Operation
Advantage1: All Systems Diagnoses, ECU Coding, Active Test
Advantage2: 28+ Special Reset Functions Full OBD2 Functions
Advantage3: 8 Expandable Module Functions
Advantage4: 2 Years Free Update+5 Years Warranty
Camera: 800 megapixel
Country/Region of Manufacture design: California design United States
Display Screen: 5.99-Inch/TFT(IPS)
Feature: All Systems Diagnoses, ECU Coding, Active Test
Feature 1: ECU Coding
Feature 2: Active Test (Actuation Test)
Feature 3: 28 Reset Services
Feature 4: Full OBDII Functions
Feature 5: Support 9 Multi-Langauge
Feature 6: 128+ Worldwide Vehicle Coverage
Language: English,German,Spanish,French,Italian,Portuguese,Russian etc.
Memory: 32G
Operating System: Android 10.0
RAM: 2G
ROM: 32GB
Storage Temperature: -4℉~144℉
Type: Vehicle Auto Professional OEM Diagnostic Scanner
Type1: Full System Scan Tool(ECM,TCM,TPMS,SRS,ABS etc)
Type2: Actuation Test Tool ECU Coding
Type3: Car OBD2 Professional Diagnostic Tool
Update: 2 Years Free Update Online