Pyrex Amish Butterprint Mixing Bowl Cinderella Bowls Set of 4 Vintage From Japan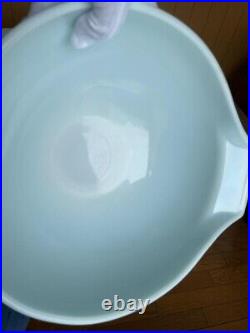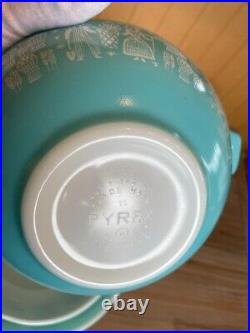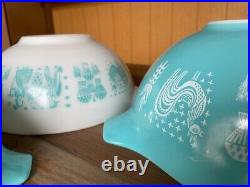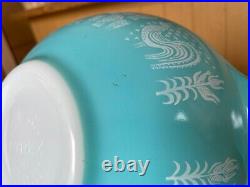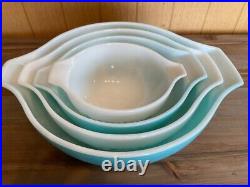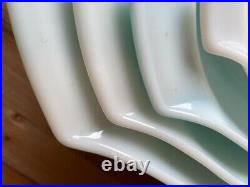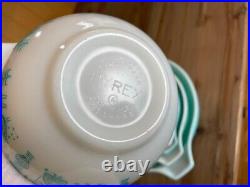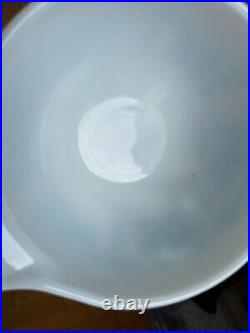 Old Pyrex Butter Print Cinderella Bowl 4-piece full set of LL, L, M, and S. It is also called "Amish" because it depicts farmers, chickens, corn, etc. The turquoise blue and milk glass white are lovely and cute. This is an item that was stored without being used after being personally imported from the United States.

[Size (approximate)]S: 15cm x 19cm x 8cm (h)M: 18.5cm x 23.5cm x 9cmL: 22cm x 28cm x 10cmLL: 26.5cm x 33cm x 11cm[Condition]Depending on the bowl, there may be some signs of use, discoloration, dirt, or paint loss, but this is as shown in the photo. Overall, I think it can be said to be in good condition, with no chips and a glossy finish. This is a cute set that has a large presence and can also be used as a display. Since it is a relatively thin glass, it is also useful for practical purposes when cooking.

I think a full set of 4 items is quite rare, so please take this opportunity.