Triple Leaf Tea Herbal Blood Pressure Tea Drink UK Seller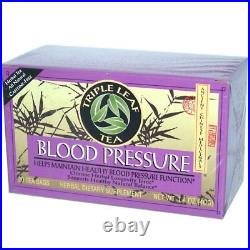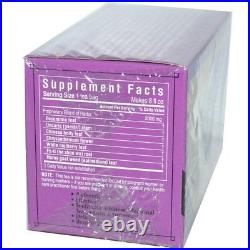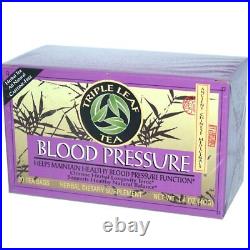 Triple Leaf Tea Blood Pressure. Helps Maintain Normal Blood Pressure Function. Eucommia Leaf & Chinese Herbs.

Supports Healthy Natural Balance 20 Tea Bags Each Box. Triple Leaf Tea's Ancient Chinese Herbs & Teas. Traditional Chinese use of herbs and teas dates back thousands of years. Recently, here in the West, people have discovered the value of this ancient practice. Tea drinkers are able to enjoy a wider variety of Chinese herbs and teas that rarely were used in the West until recent times.

Different parts of plants are used, including the leaves, stems, roots, barks, seeds and flowers. Herbs are often blended together, and prepared and consumed as teas. The Chinese tradition of using herbs and teas has been passed on from generation to generation over the centuries.

Triple Leaf Tea comes from such a tradition. It is made in the U.

A by a Chinese American family-owned business. Today these traditional Chinese herbs and teas are available to you. The Blood Pressure Chinese Herbal Tea Tradition.

The Chinese have used the herbs in this delicious, mild-tasting tea for thousands of years to help maintain blood pressure levels that are already within the normal range, and to help nourish the kidneys and liver. Eucommia is highly esteemed as a vitality herb. Traditionally, it was used to fortify the body's "jing" or essence. Eucommia, as well as Uncaria, Chinese holly, mulberry, chrysanthemum and epimedium, have a long history of use to help nourish the kidney and liver. Fo-ti is a renowned herb, used traditionally to help support healthy, normal vitality and to help nourish the blood, kidney and liver.

Caring for one's kidney and liver, along with a healthy lifestyle and wholesome foods, was believed to contribute to balance and well-being. It also as considered to help support the healthy function of the back, bladder and joints. Red clover flowering top, herb, Dandelion leaf, Asian plantain leaf, Ginger root, Fo-ti (he shou wu) root, Schisandra fruit, Burdock root, Astragalus root, Lysimachia root, herb, Kudzu (pueraria) root, Peppermint leaf, Cinnamon bark, Isatis root, leaf, Solomon's seal rhizome, Duckweed (spirodela) root, Licorice root, Japanese honeysuckle flower, Tokyo violet root, herb.

Other Ingredients: Natural lemon flavor with other natural citrus flavors. Enjoy this tea hot or iced.

For a delicious addition, drink any of Triple Leaf Tea's Hibiscus, Green, Decaf Green or White tea. Note : This tea is not recommended for use by pregnant women or nursing mothers. Consult your healthcare provider before use if you are taking any medication or have a medical condition. Do not use if you are pregnant or nursing unless otherwise directed by your healthcare practitioner.

Consult your health care provider before use if you have any allergy or sensitivity to latex. Eucommia leaf contains a natural white gum EUG (Eucommia ulmoides gum), a type of natural latex. It differs from the latex derived from the ordinary tropical rubber tree (hovea brasiliensis).

While Chinese herbalists consider eucommia safe and effective, there may be cross sensitivity in people with latex allergies or sensitivity. Discontinue use and consult your doctor if any adverse reactions occur. Keep out of reach of children. Orders placed after Friday 1pm will be dispatched on Monday.