Vintage Powell Hand-made Flute, 14k Solid Gold Lip, All New Pads, Soldered T-holes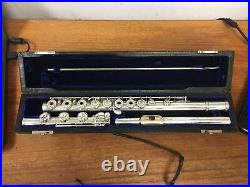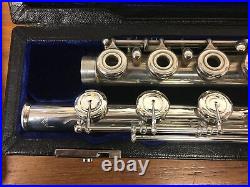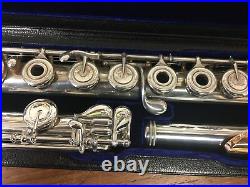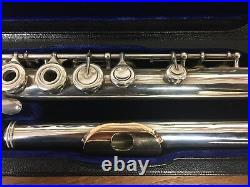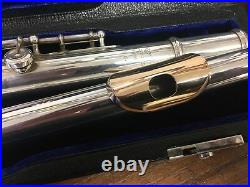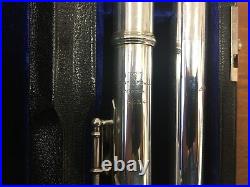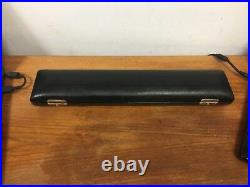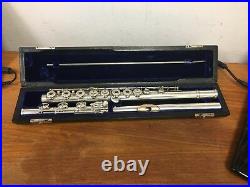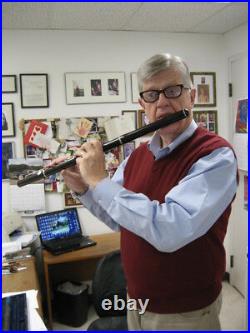 Powell #2554 (1965), hand-made, soldered tone-holes best model pre Wasser flute. This wonderful flute weighs a mere 430 grams, arguably "more accessible" than a heavy-wall Powell. If you're an amateur adult who likes to play with small ensembles and enjoys tooting Bach on week-ends, it's perfect. If you're playing in a pro orchestra that tunes to 442 or higher, this one's definitely not for you. The one Verne used on flutes he built. Not "modern Powell, " not "Cooper scale, " not "short scale" or anything similar. The low D is a shade low, so you've got to push to make it play with modern intonation.

The solid silver tube measures. 014 inches (body and head). The flute was constructed with in-line G, and soldered tone-holes. With head section in solid silver with 14K gold lip and riser. A: 440, traditional Powell scale.

The four partners retained ownership until 1982, when the company was acquired by Rob Viola and James Phelan. Two models were produced: the so-called commercial model featured flat pad-cups and extruded tone-holes. The fully hand-made models were built on the traditional French means of construction, with tone-holes soldered to the silver tube, with pointed pad cups and extended key-arms. Our instrument is one of the fully hand-made vintage Powell with French (open) keys and B foot. The original leather-covered case is very good and the flute plays very well, at 440 pitch. In 1965, Powell built only 114 flutes, half of them commercials and half hand-made. That means this particular instrument is rare and of the absolute highest quality. In 1965, before Muramatsu, Sankyo and the others were producing pro-quality instruments, virtually ALL the worlds professional and concert artists performed on either a Powell or a Haynes hand-made.

Is ours better than a new flute from Powell? Do I recommend this one?

Pick it up and it sings wonderfully from the first toot! Always glad to hear from flute people!

In January of 2020 our small workshop in Wichita celebrated sixty-seven years in business. We are not in the 1952 Wichita telephone directory, but we ARE in the 1953. Over the decades, weve repaired and restored more than two hundred vintage French flutes from Louis Lot, Bonneville, Claude Rive and Buffet-Crampon plus hundreds of professional-quality flutes from Haynes and Powell.

We are not amateurs, nor are we a back bedroom operation. We would be pleased to furnish you with references attesting to the above. BEFORE WE SEND ANYTHING TO YOU.

The instrument is carefully inspected by us to make certain its spotlessly clean. We disinfect the exterior of the instrument, spray the exterior of the case as well. We do not send anything to you without its being checked and then checked again. A FEW WORDS ABOUT OUR SENDING ON APPROVAL. Weve had the same policy for half a century, are always happy to send almost anything for a short trial period.

Five days is, we believe, sufficient for a trained musician to decide if the item sent them is a good match. With recorders, clarinets, flutes, and oboes, we remove all the keywork, then give the bodies a quick bath.

Soap and water, but not long enough to harm the finish. Keys are lightly sprayed with a disinfectant and pads are lightly swabbed with the same.

Then, back in the case after a spray to the exterior and carrying handles of the case. Not sure what the other shops are doing about this issue (Ive asked and have had no replies), but we think our clean-up work is exactly whats required to keep everybody safe. Wichita Band Instrument Company is a small musical instrument emporium located in the center of the USA. Weve been in business since 1953 and have had the same owner since 1963. Originally we were a repair shop that specialized in woodwind and sax restoration.

Today we have 12 employees including six of the finest repair technicians in the country. Virtually ALL the items we sell have been fully reconditioned in our own shop, although we do sell a few unrestored historical instruments each year. With a used flute from OUR shop, you know its in the finest condition when it arrives at your home! Heres what we do to all used flutes we sell. The instrument is taken apart and everything washed clean. Dings are next burnished from body, head and foot. After the body-shop works been completed, we swedge hinge-tubes tight again and re-fit them to the flute body. Finally, pads and corks are replaced and the instrument play-tested.

Pre 1950 French flutes often require more than twice the restoration time that we need for a modern Haynes or Powell. We use thin double-skin pads of the highest quality and shim each pad in the manner of the best Boston makers.

We dont float flute pads with shellac, as did the original Paris workshops. Its in addition to any factory guarantees. For two full years, we will repair or replace, whichever in our estimation is the more advisable, pads, corks, springs or other parts required, at no charge to the customer. Wichita Band Instrument Company maintains a repair department capable of restoration work of the highest quality.

Even though repairs are essentially free for the first two years, after that period has expired, we remain at your service to maintain and repair your musical equipment forever. Its our service after the sale promise and has been since 1953! Anything we sell can be sent to you for a short approval period without obligation. Were happy to respond to any and all questions about flutes and other musical instruments, but please dont write and ask Whats grannys mellophone worth? The item "VINTAGE POWELL HAND-MADE FLUTE, 14K SOLID GOLD LIP, ALL NEW PADS, SOLDERED T-HOLES" is in sale since Tuesday, April 2, 2019. This item is in the category "Musical Instruments & Gear\Wind & Woodwind\Band & Orchestral\Flutes". The seller is "wichitaband" and is located in Wichita, Kansas. This item can be shipped worldwide.
Country of Manufacture: USA
Country/Region of Manufacture: United States
Machine Head Material: Silver
Type: Concert Flute
Headjoint Material: Silver with 14K gold lip
MPN: Does Not Apply
Body Material: silver
Brand: Powell
Skill Level: Professional
Riser Material: 14K solid gold